Supreme
The world's coolest streetwear brand
Supreme is a skateboarding shop turned clothing brand, created by James Jebbia as a small company in downtown Manhattan and quickly became a designers dreams. Thanks to collaborations with top brands as diverse as Louis Vuitton, Nike, and Kermit the Frog, Supreme is the brand people want to be wearing.

Even celebrities like Cara Delevingne and DJ Khaled are fans. Consumers will spend crazy sums to get their hands on limited edition collaborations like the Supreme Louis Vuitton Bag (which resells on eBay for  $4,000 - $15,000), and always post a picture of it on Instagram (the brand has 6 million followers).
James Jebbia, the man who, in 1994 founded and to this day runs the SoHo-based company that has been making clothing and skateboards and a lot of other things that the people who love it absolutely have to have, doesn't think of Supreme the way most people in fashion might—as a brand that started out in a small  store on Lafayette Street, and has since inched its way to global status.
He thinks of Supreme more as a space.
When Jebbia was a teenager in Crawley, West Sussex, in the eighties, working at a Duracell factory, listening to T. Rex and Bowie on breaks and spending his spare cash on trips to London to buy clothes, it was always in a certain elusive kind of store, one that became the model for Supreme.
"The cool, cool shop," says Jebbia, who is 54 and dressed in jeans and a plain dark-blue T-shirt, label-free and low-key, with closely cropped hair and deep blue eyes. "The shop that carries the cool stuff that everybody was wearing—no big brands or anything."
Jebbia's office a few blocks west of the Supreme store is adorned with a skateboard designed by Raymond Pettibon; some drawings by Jebbia's kids, age 8 and 10; and a larger-than-life-size portrait of James Brown—whom Jebbia, crucially, sees as not just the hardest-working man in showbiz but as a guy who never played down to his audience. Jebbia is, likewise, ever-mindful of his customer, who is generally aged eighteen to 25 and wants simply to buy cool stuff—and who will pay for it, assuming it's worth it.
"My thing has always been that the clothing we make is kind of like music," Jebbia says. "There are always critics that don't understand that young people can be into Bob Dylan but also into the Wu-Tang Clan and Coltrane and Social Distortion. Young people—and skaters—are very, very open-minded . . . to music, to art, to many things, and that allowed us to make things with an open mind."
Recently the fashion world has been waking up to Supreme. In the past decade, the company has opened stores in Tokyo, London, and Paris, while the passionate devotion of their customers has brought it into the conversation with both teenagers at skateboard parks and the front rows of high fashion—with Paris in particular swooning over Supreme's collaboration with Louis Vuitton. Jebbia loved working with Kim Jones, Vuitton's menswear designer, to make skateboard trunks and backpacks, bandannas and gloves, shirts and jackets. The feeling was mutual.
"When you see the lines for Supreme in New York or London," says Jones, "you see so many different types of people, and they are people you can relate to—they understand high-low, they're smart, they're intelligent, and they're humorous. They know what they want, and they are very loyal—and a customer who is loyal is a real aspiration for anybody with a brand."
The Vuitton collaboration was also, for many in fashion, their first glimpse into the secretive world of Supreme, which has become a kind of shorthand for authenticity, immediacy, speed, and deftness in its way of doing business. More than just selling sweats and tees and hats, the brand brings out a new collection two times a year, like any fashion company—generally, an online look-book, followed by a few pieces dropped every Thursday, each item available both online and in the stores. A Supreme drop is a big event.
"We can have a leather jacket for $1,500, and if it's a good value, young people will understand that," Jebbia says. "But we also want to have the feeling that this won't be here in a month. When I grew up, I think everybody felt that way. It's like, If I love this, it may not be here, so I should buy it."
Rather than try to give an insight into the brand myself, I turned to millennial social media analyst Sumo, to explore why and how Supreme reigns in the world of streetwear.
You can see from the Google Trends report below that worldwide interest has steadily rose over time for the Supreme brand:
The best part? Supreme has grown — and continues to grow — WITHOUT spending insane amounts of money on advertising or marketing. This means you can do it for your ecommerce business, too.
TRAFFIC SOURCES SUPREME USED TO BUILD IT'S CULT-LIKE FOLLOWING
Supreme is a streetwear brand that started as a skateboarding shop in New York City in April of 1994.
The brand produces clothing centered around their 'red box logo' which is shockingly simple, has transcended its skateboarding roots, and is fueled by the brands ability to create desire.
Here's how Supreme gets most of their web traffic.

With a cult like following, and a focus on exclusivity, it makes sense Supreme relies on direct and search traffic as their main traffic drivers.
Supreme is the most sellable clothing brand in the world. The stuff they make is statistically more likely to skyrocket in value than the merchandise of pretty much any other consumer company in the world.
To increase your own following, product demand, and direct traffic, here are nine ecommerce marketing tips you can apply in your business.
THE LIMITED SUPPLY METHOD TO CREATING VIRAL CONTENT AROUND YOUR BRAND WITHOUT A BLOG
Supreme product drops are powerful, and the user generated content around the brand has been enough to allow Supreme to remain in a mostly 'underground' status in terms of marketing with almost no paid search investment.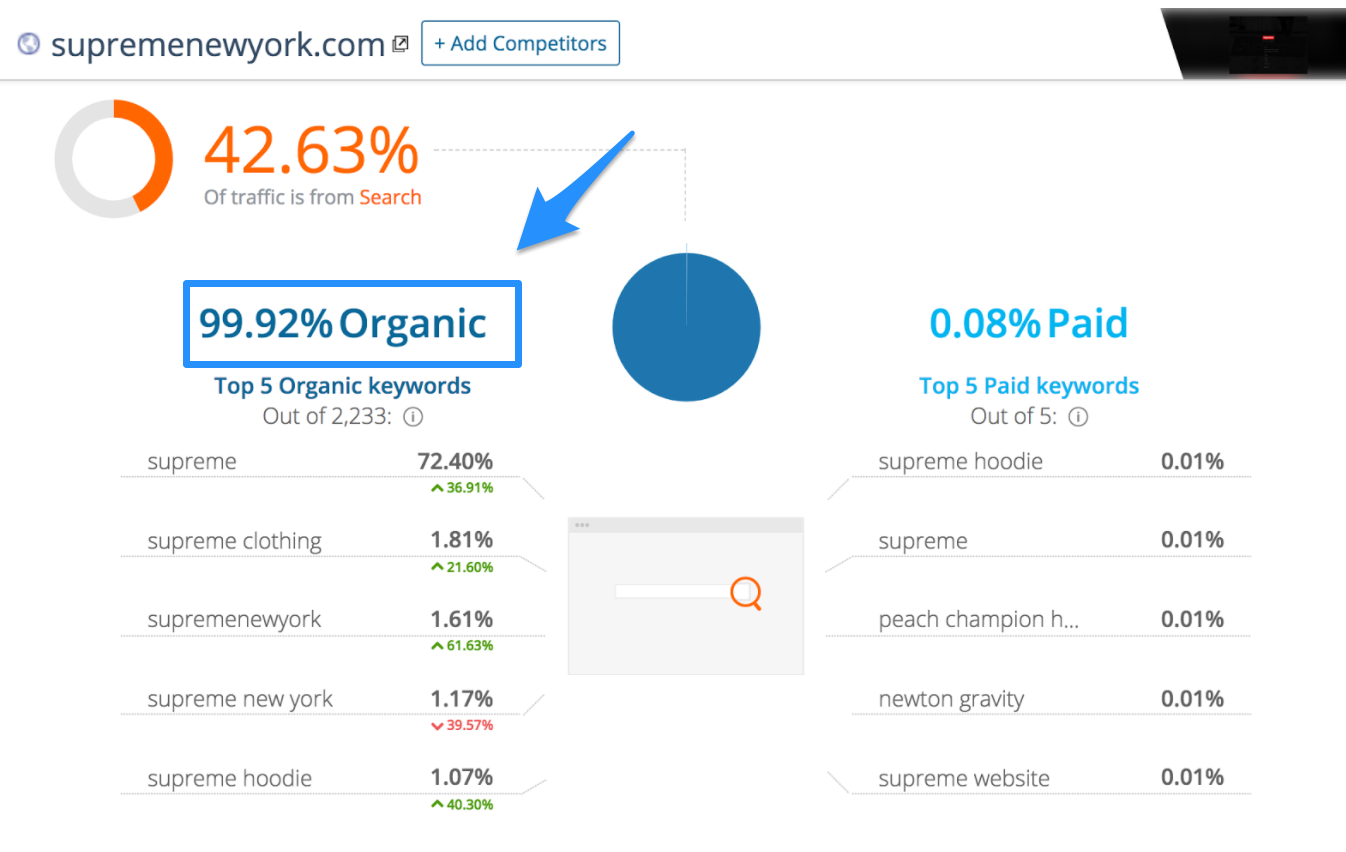 Here's just one of the online communities that create viral content for Supreme without them having to do a thing: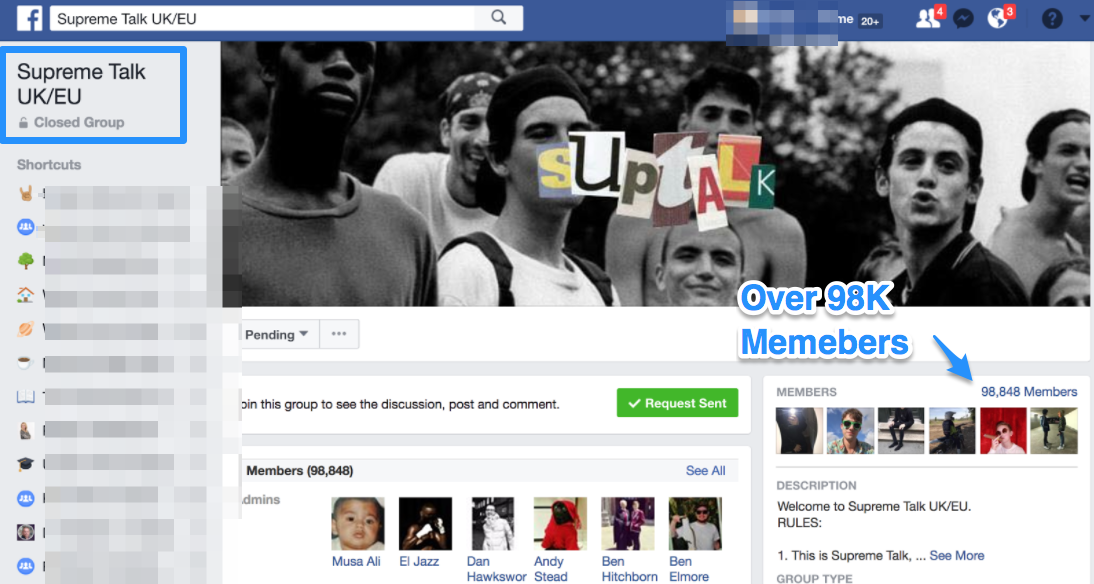 Supreme Talk UK/EU (aka SupTalk) is Europe's largest Supreme fan group. It's also one of Supreme's biggest Facebook reselling groups.
The group started in 2012 when founding members Adam Rose and Peter Mitchell were frustrated at the lack of a UK secondary market for Supreme compared to the USA. So they started SupTalk for Supreme fans to buy, sell and trade Supreme products without having to pay obscene shipping costs.
Supreme have been able to get groups like SupTalk and major news sites with millions of followers like Hypebeast and Highsnobiety to promote their products by limiting supply of their product. Every week dozens of articles are published around how/when and who is involved in the resale of Supreme products, like this one: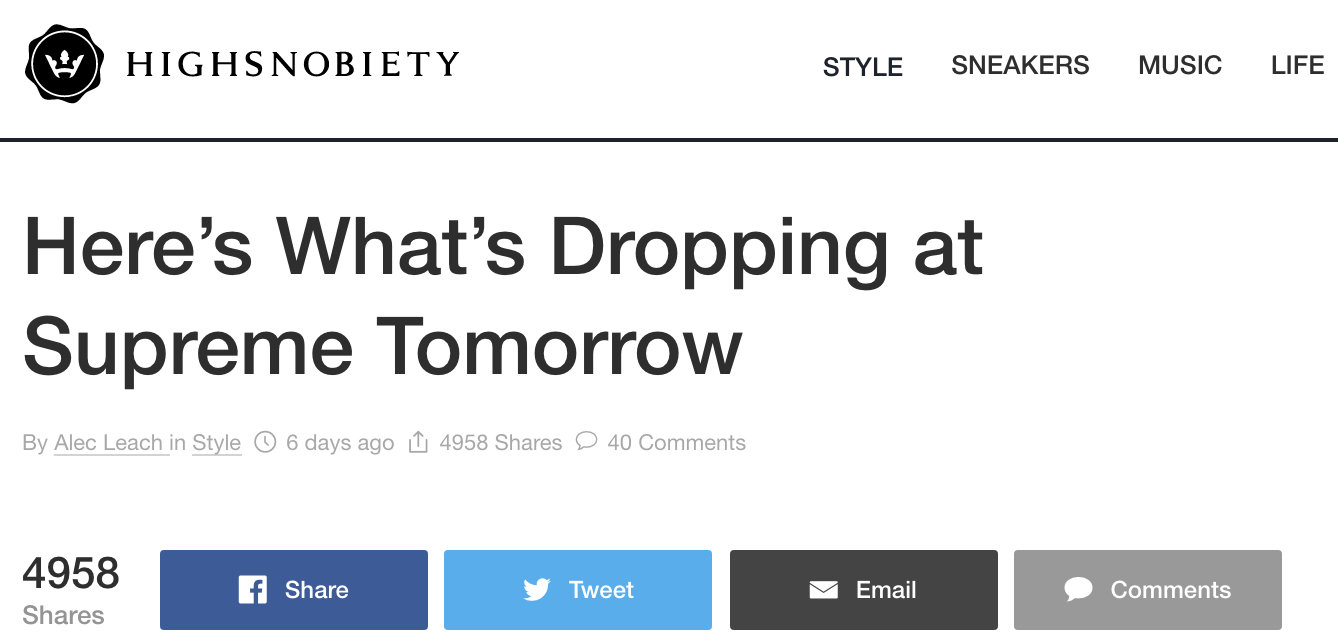 When you look at Supreme's top backlink, you can see the enormous amount of shares it has received, and traffic it provided:

Actually, Hypebeast alone have generated over 113 content pieces around Supreme with total shares over 200,000 in the last year. Again, just one example of content and momentum created outside Supreme itself.
But even though now more people than ever want Supreme, they've always kept supply controlled and never released a ton of pieces. This means demand gets higher as supply stays the same, manifesting an overblown hype that creates a secondary resale market for when Supreme release new products.

To get this level of virality and organic user generated content around your brand, it means you need to be very disciplined. When a Supreme product sells well, they never make it again. That's what creates the hype and insane resell prices that get as high as 1200% or more, like this: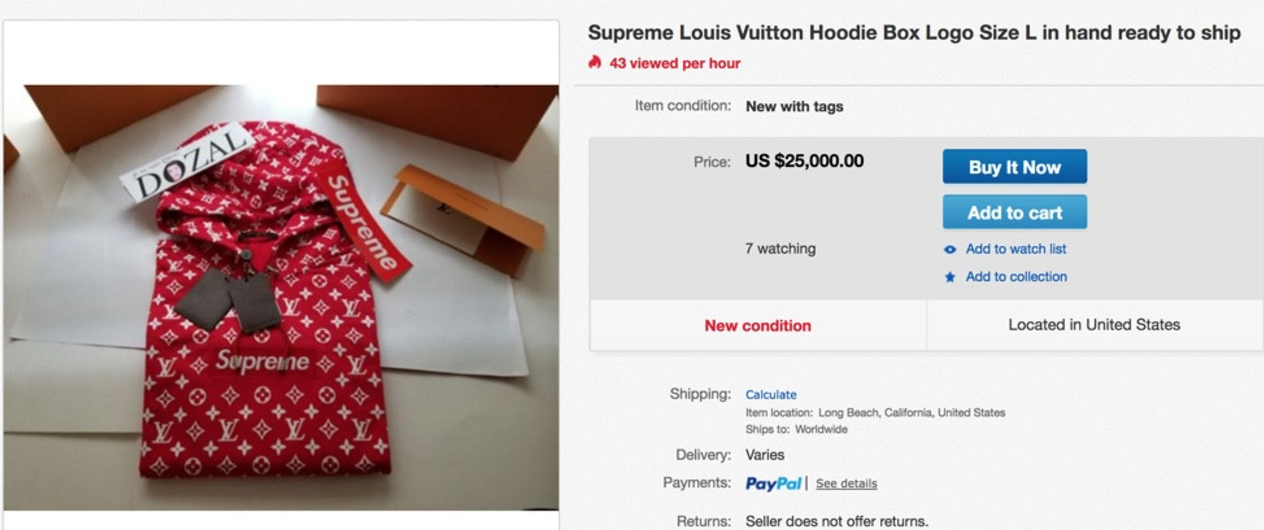 When you make things in smaller quantities, it makes people:
Feel special
Want to have it even more
Increase the value for the buyer
While many businesses are trying to use "Limited Edition" as a selling point, with Supreme if you don't get it you may never have the chance to get it again.
Supreme is the only company who sells it (they only have one retail distributor called Dover Street Market) and they only sell product through their online store and limited retail locations around the world.
USA: New York City, Brooklyn, Los Angeles
Europe: London, Paris
Japan: Tokyo (Shibuya), Tokyo (Harajuku), Tokyo (Daikanyama), Nagoya, Osaka, Fukuoka
Supreme do weekly product drops every Thursday where they release a fresh batch of streetwear via its online store and international retail locations (with Japan getting it two days later on Saturdays). However they never say what's coming.
This allows Supreme to gain brand momentum and organic traffic to their site every week through viral communities like SupTalk and major news sites like Hypebeast, because their fans want to know what's coming next.
Supreme's limited supply strategy created a demand frenzy that got so big once that when the "Supreme Foams" were released at Supreme's New York Store they were forced to not sell it by NYPD due to concern for public safety.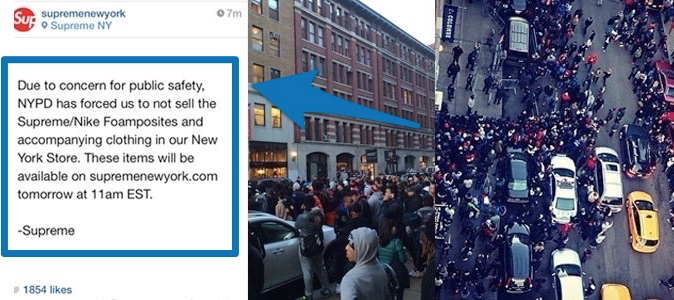 The takeaway: Intentionally release every product in limited quantities to ensure sellout and engineer viral content around your brand (Supreme does this by limiting the quantity of every product they sell and varies the number available depending on the product and collaborators.)
THE MOST UNUSUAL HOME PAGE LAYOUT IN THE WORLD THAT GETS ALL THE BOYS AND GIRLS CHASING YOU  
Supreme's homepage is largely different from most retailers homepage. You'll notice that Supreme uses a 'stripped down' website theme that combines a minimalist approach with a 'too cool for school' feel, leaving visitors wanting to know more vs. bombarding them with information.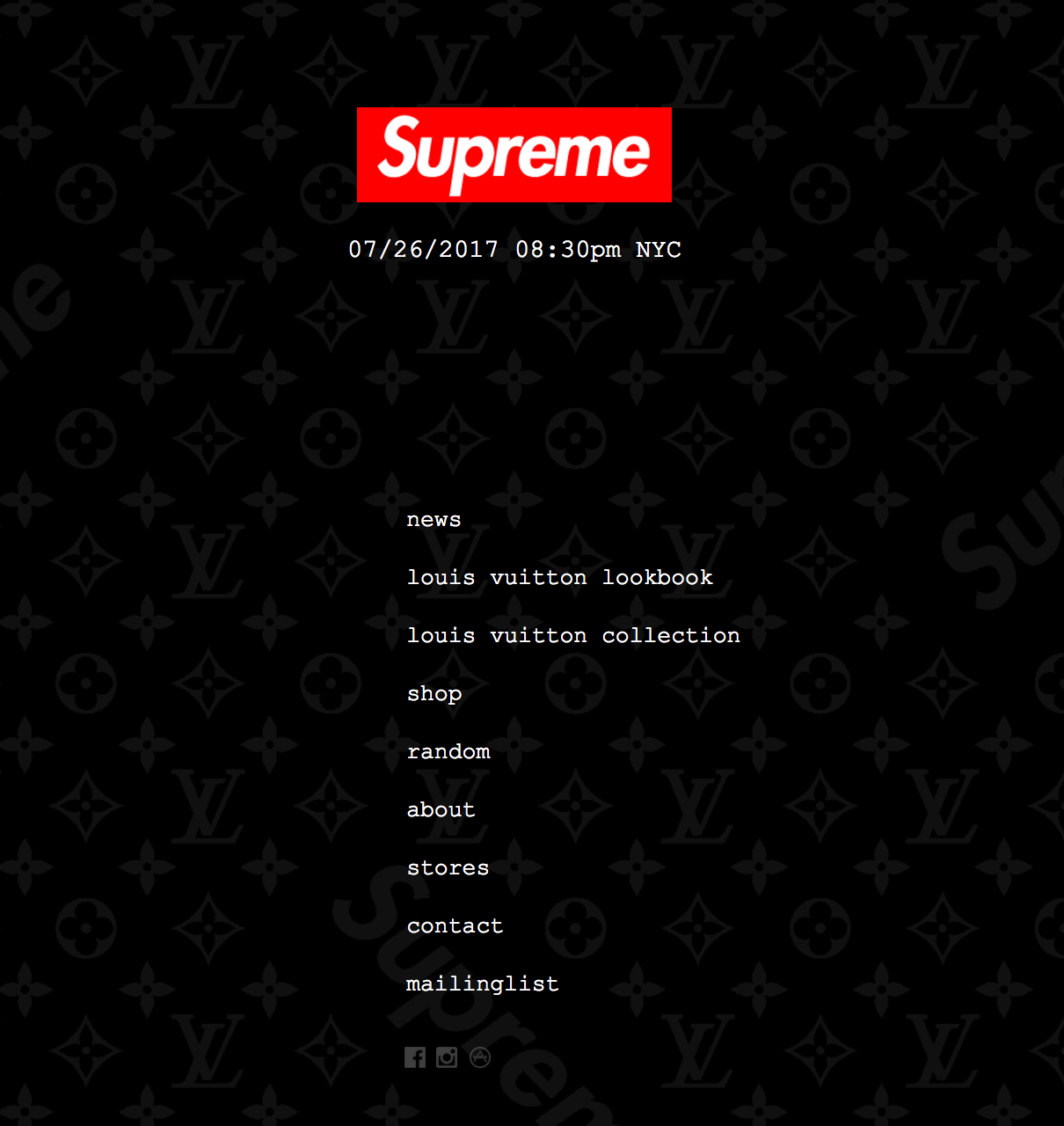 The brand's stripped down homepage contains:
Zero call to actions
A stripped down minimalist design
Only one graphic → Their logo
When compared to other big name brand homepages Supreme's homepage is strikingly different, and relays a different message. Just take a quick look at Nike's homepage for example:

It's clear what message Supreme wants it's visitors to understand: you need to chase them, they won't chase you.
Supreme has been described as being: "the girls that gives you her number but never answers wen you call."
The takeaway: Will this homepage approach work for everybody? Absolutely not; however, if you are looking to create a high-end, luxury brand, it's something you should look into (Supreme does this with a site design that hasn't changed since it launched in 2006 to stay elusive and on brand with 1 logo, 9 page links, 2 social links and 1 link to their mobile app).
THE EMAIL MARKETING STRATEGY THAT MAKES YOUR CUSTOMERS CONSTANTLY CHECK THEIR SPAM FOLDERS
Supreme's mailing list sign up is not plastered all over their website.  There is a very modest link to their mailing list page in two places:
The bottom of their homepage
Their 'shop' page for a few months before their next collection releases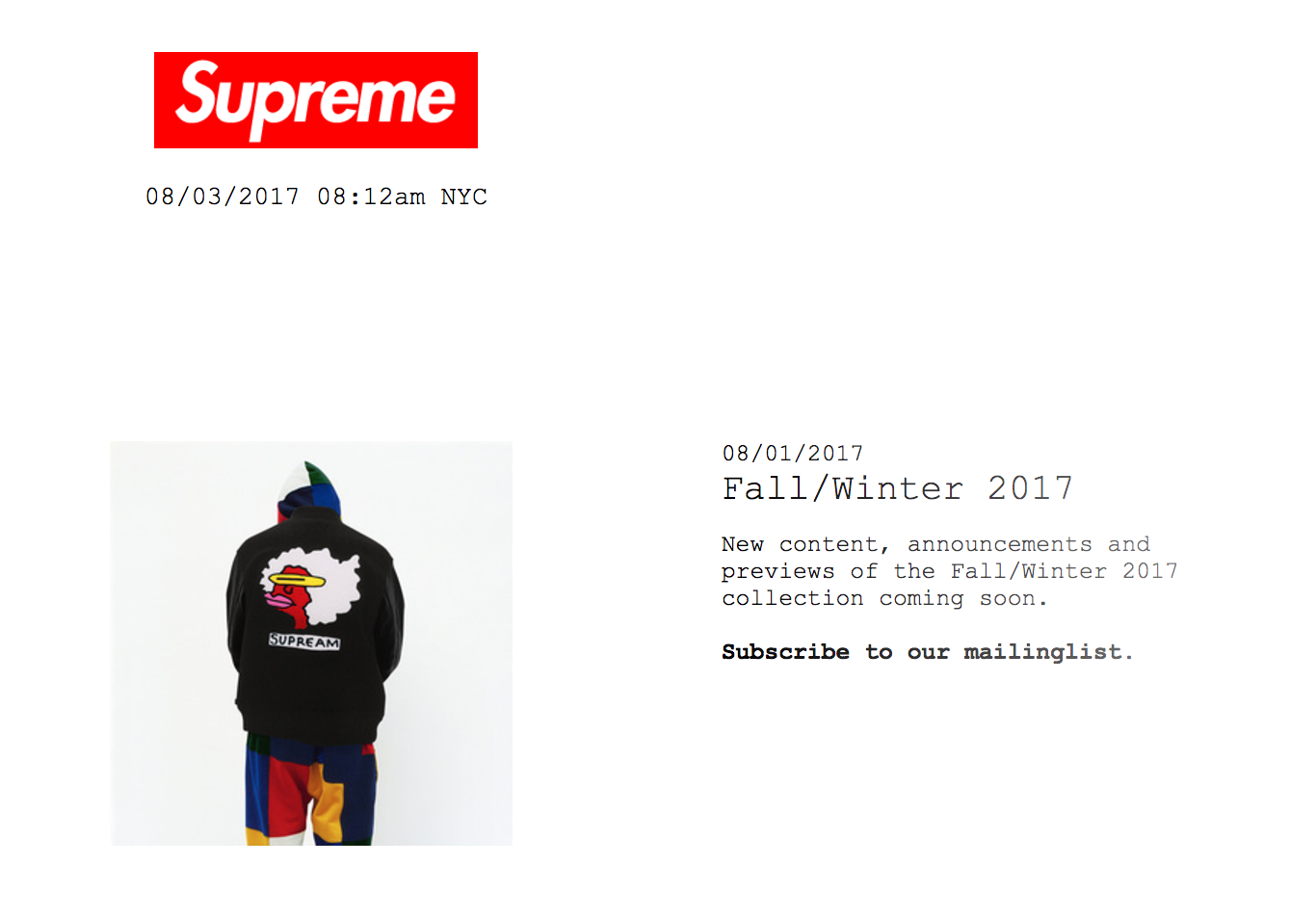 When you sign up for the Supreme Email List you get… nothing!
Crickets actually start chirping as you wait for any sort of email from Supreme.
SUPREME'S EMAIL MARKETING STRATEGY ACTUALLY MAKES CUSTOMERS IMPATIENT FOR THEIR NEXT EMAIL. 
It's no surprise that Supreme uses their email newsletter in a different way than most retailers. Following suite with everything else they produce, Supreme's email sign up is not the norm.
In an age where consumers are bombarded with emails highlighting specials, sales, and content — Supreme uses their email list as another tool to portray the message that 'you chase us' in their marketing.
Supreme uses their email list for two main purposes:
1) To update consumers on their weekly 'drops'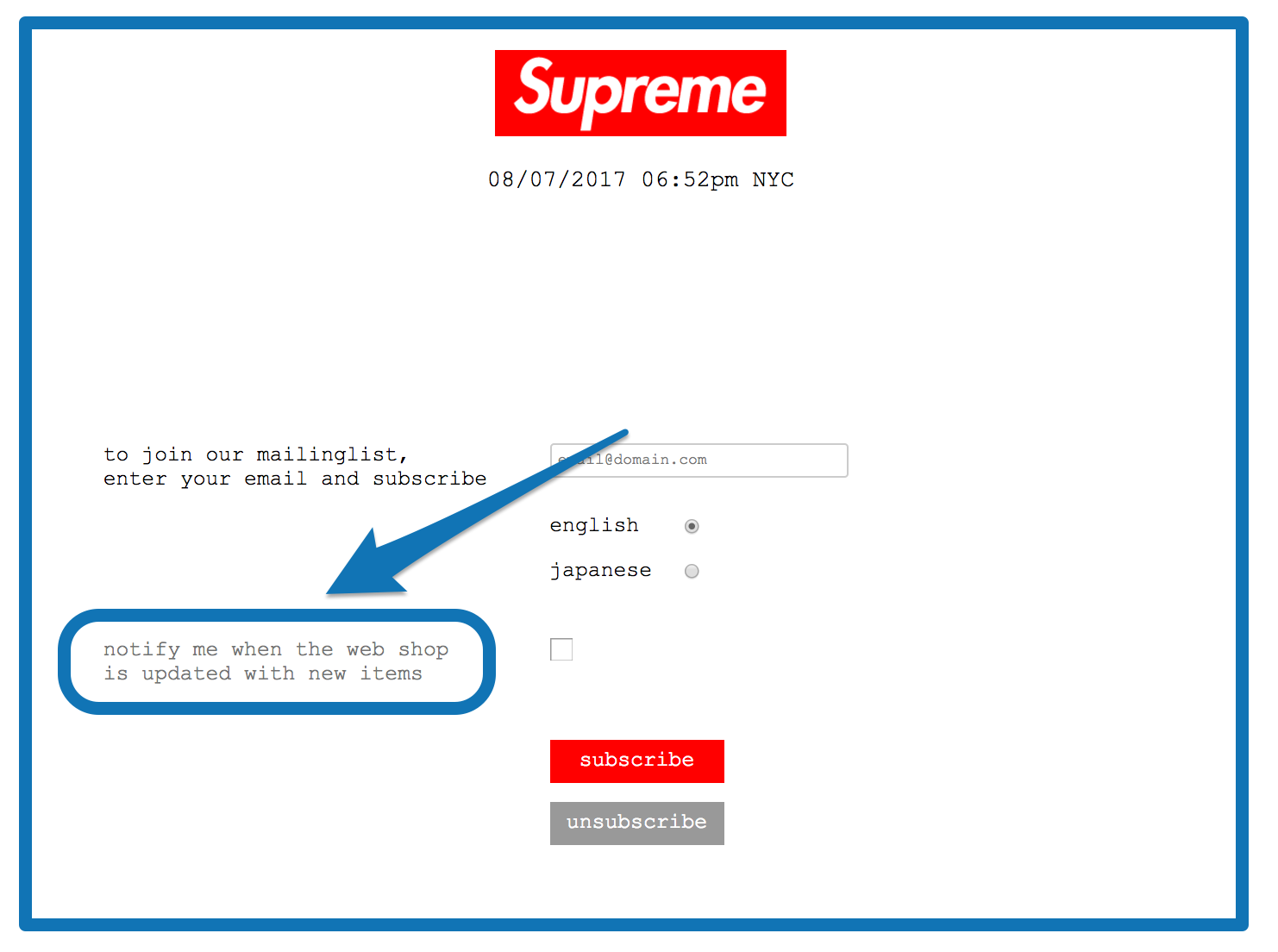 "Each week you will be notified of a location where you can go and sign up for your spot on Thursday's line. Once you receive the email you can proceed directly to the location given." – Supreme Reddit Forum
Supreme has been known to send messages and updates to a select group of customers. The way they come up with this list is a mystery.
Supreme's email tactic is such a mystery that sometimes they do not even send order confirmation receipts. There are dozens of conversations online regarding order confirmations:

The takeaway: Do not follow the crowds. Just because 90% of retailers spam people with emails and push for sign ups does not mean it is the best tactic for your email list. Make sure your email marketing strategy is in line with your branding (Supreme does this by only sending emails when their products drop and "mystery" customer-only emails).
THE ECOMMERCE "LOOKBOOK" CONTENT MARKETING STRATEGY YOU CAN USE 3 DAYS BEFORE LAUNCHING YOUR NEW COLLECTION
Three days before their new collections are available for public sale, Supreme launch something called a "lookbook" on their website. Supreme doesn't have a blog on their website; however, their "lookbooks" provide customers with rich visual engagement with the brand, like this: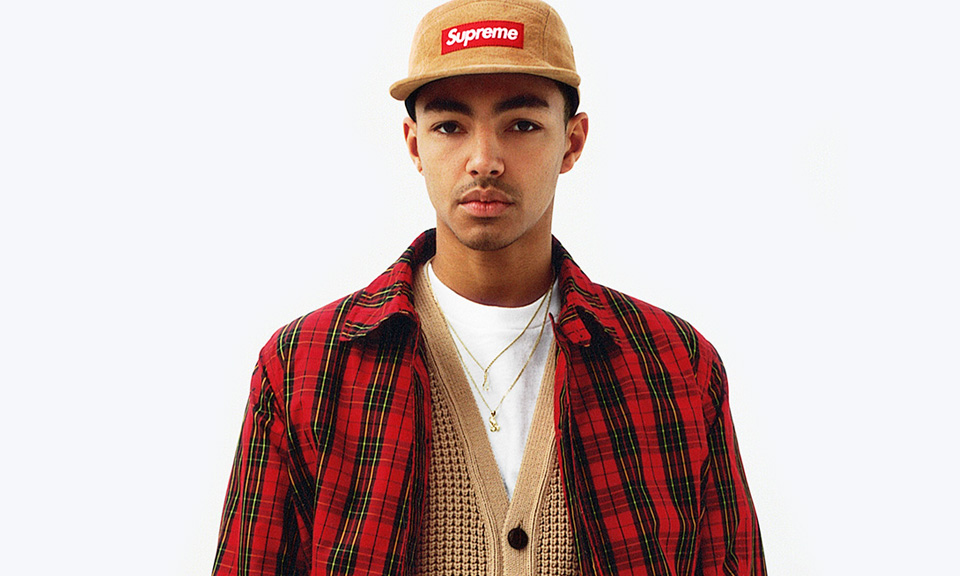 When the "lookbook" goes live on Supreme's site, you can look through and see what Supreme is going to drop over the next few months, but you don't know when those items are going to drop. You can basically see all the items Supreme are going to come out with in the coming season, except for collab drops and surprise drops.
Here is one of Supreme's lookbooks for their Fall/Winter collection (they release two per year):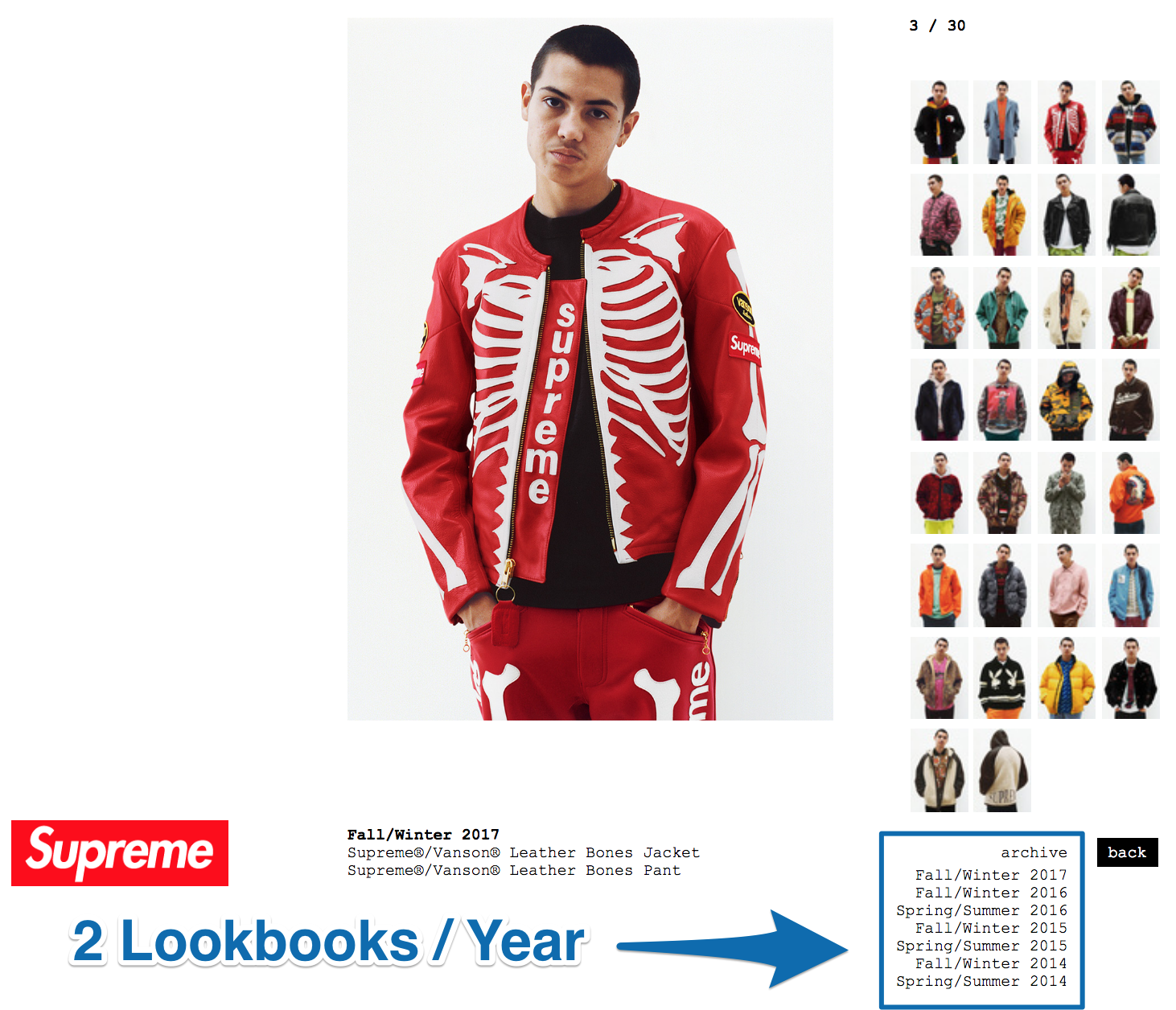 By releasing the lookbook before the product is available for sale, it creates a massive amount of buzz across social media and major news sites like Vogue, Highsnobiety, Complex and Hypebeast: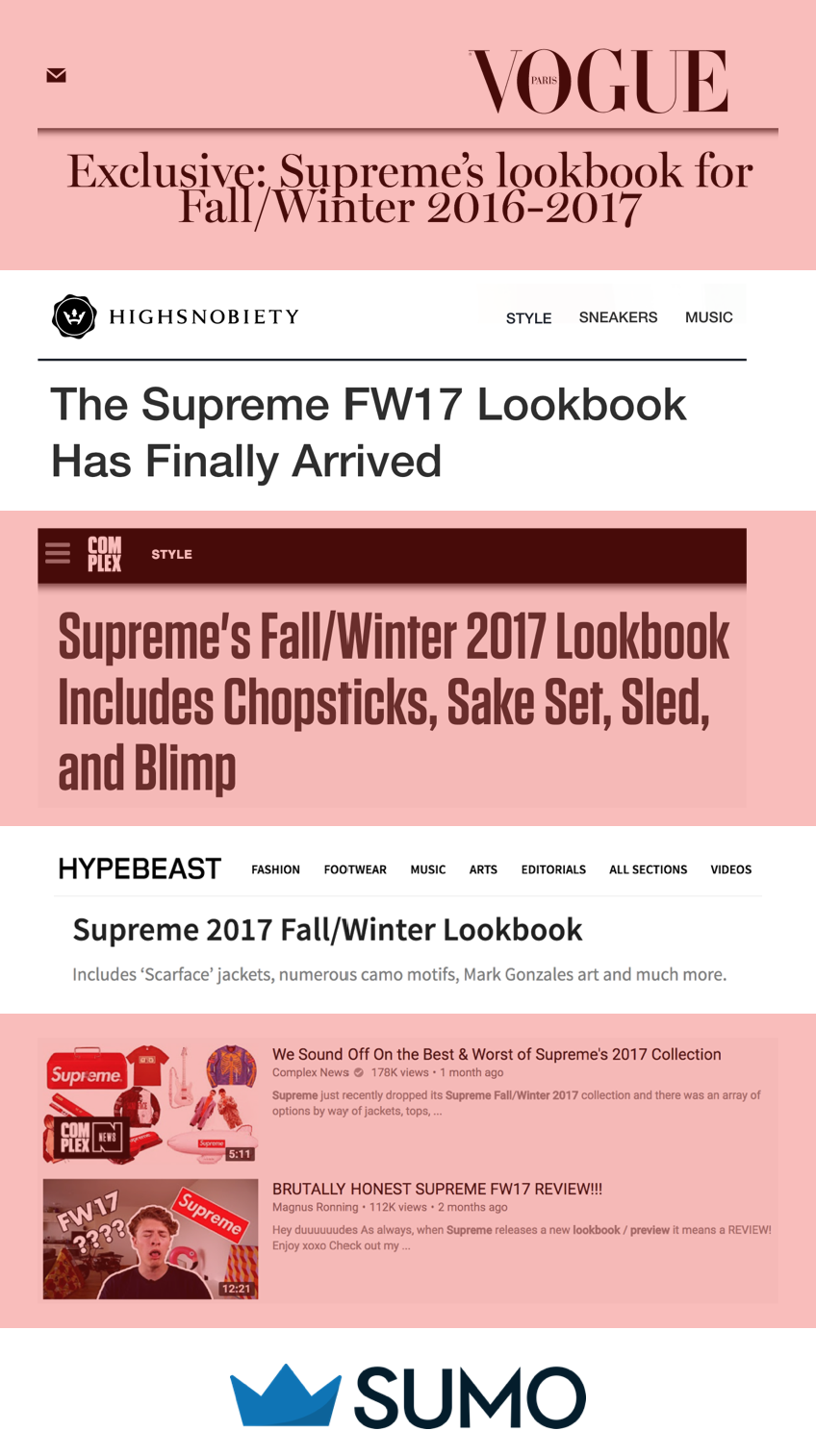 Fans get so hyped about the lookbooks that they make videos on YouTube reviewing the whole season's collection (pictured above). You can see some of these videos are so popular that they get over 100,000 YouTube views.
Outside of seasonal lookbooks, Supreme do collab lookbooks. These are based on collab drops with other high end fashion and clothing brands. Here is a Louis Vuitton/Supreme lookbook from a collab drop Supreme did with Louis Vuitton: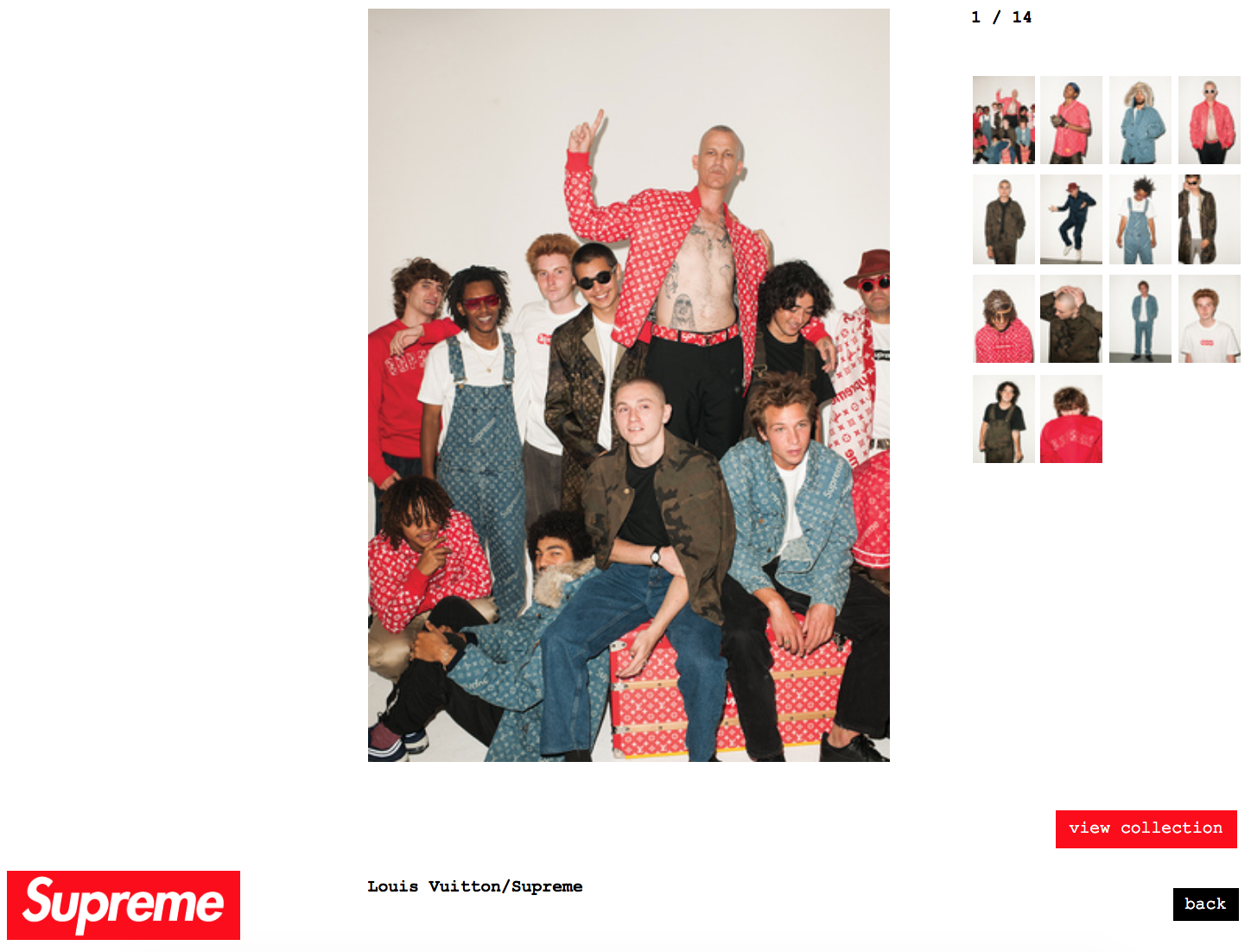 Supreme use their "lookbooks" to further convey the exclusiveness and allure of their brand.
Notice how the images portray a sort of 'clique' that further motivate customers to try to be a part of the brand culture by purchasing their products.
The takeaway: Use "lookbooks" as part of your content marketing strategy so you can build up hype and social buzz around your brand before your new products drop (Supreme does this through their biannual Fall/Winter and Spring/Summer lookbooks which they release three days before you can buy their products.)
THE ONLY GUARANTEED WAY TO GROWTH HACK REDDIT WITHOUT BEING TROLLED
Here's a look at Supreme's top social traffic sources: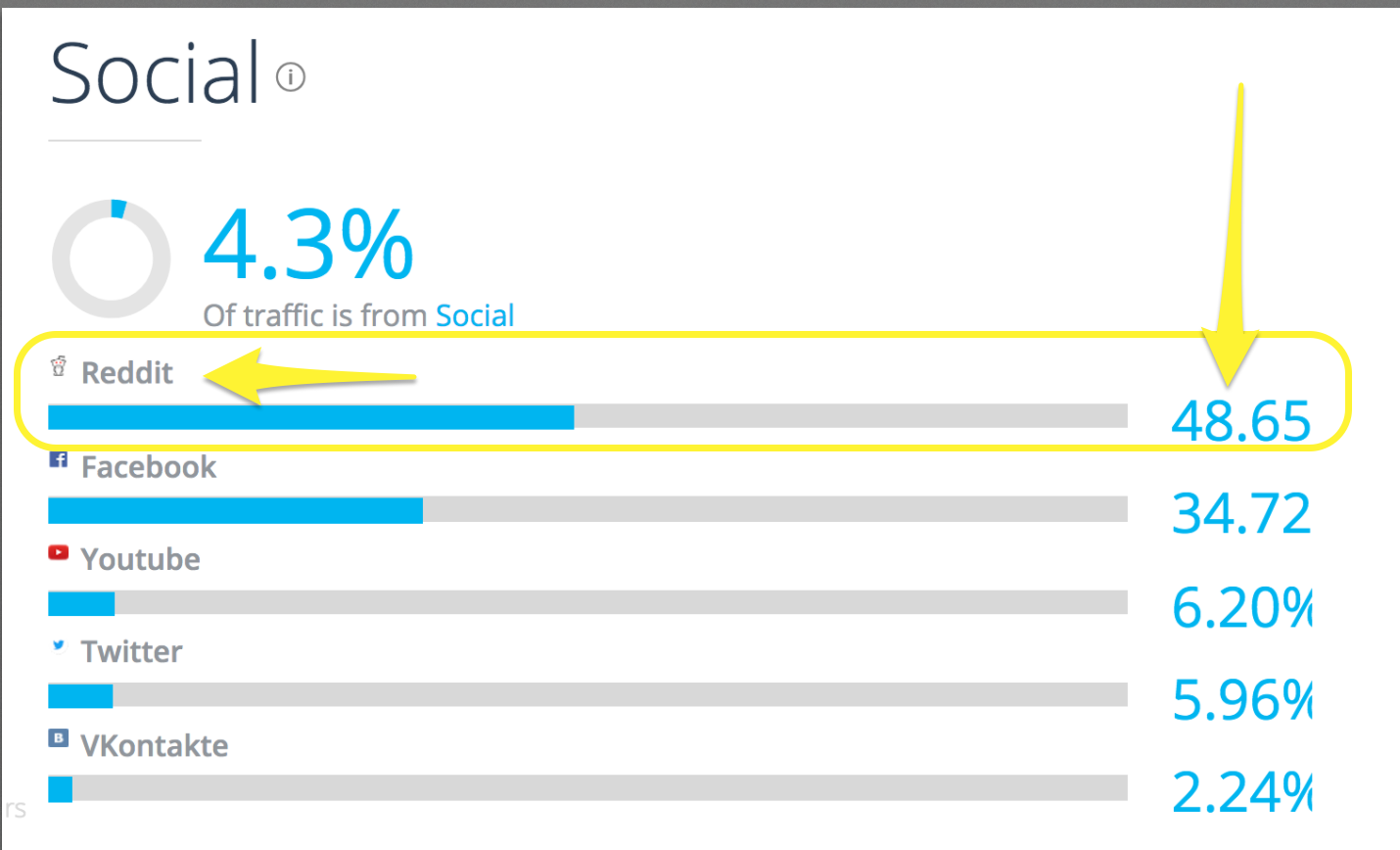 To get traffic from Reddit Supreme get one of the moderators of the subreddit to post a "super thread" under the News post flair category with links that go straight to Supreme's website with their newest lookbook:

If you tried to do a post like this by yourself in Reddit, you would get 762 Reddit trolls swearing at you for shameless self-promotion. But by getting the moderator of the subreddit to post, Supreme got 762 comments discussing their new lookbook collection.
Here is a full list of all the moderators for the Supreme subreddit:

Every subreddit has a page like this, all you need to do is type the below URL in your browser window (then replace "supremeclothing" with the name of the subreddit you want to find a moderator in):
reddit.com/r/supremeclothing/about/moderators
Once you click on a moderator's name, on the top right of the page you will see a text link you can click on to send the moderator a private message:

The takeaway: When you have a big product launch incentivise Reddit moderators in your chosen subreddit to share your product launch so you can drive massive traffic from Reddit to your ecommerce website (Supreme does this by getting moderators in the r/supremeclothing subreddit to post their newest lookbooks.)
CELEBRITY INFLUENCER MARKETING: HOW TO GET COLLABS WITH LADY GAGA, KANYE WEST, DRAKE AND KATE MOSS 
Supreme has built their brand and boosted exposure by getting the attention of celebrities. Dozens of celebrities are captured wearing Supreme's class box logo tee.
Their clothing can be seen on high profile celebrities such as:
Lady Gaga
Kanye West
Drake
Kate Moss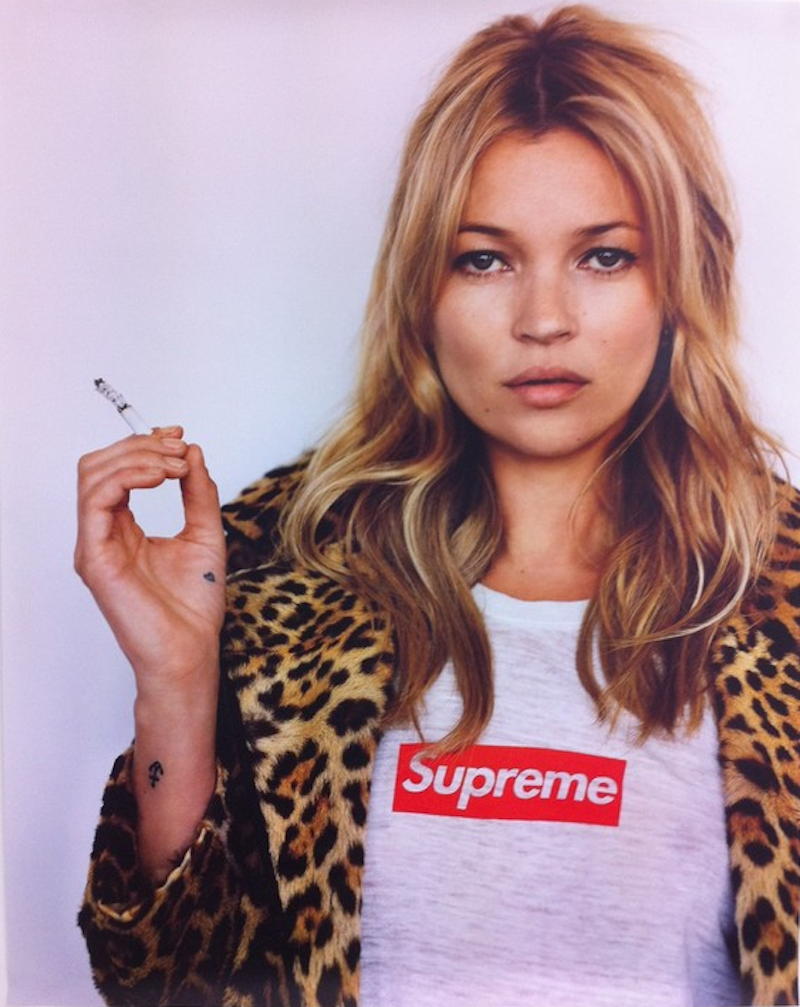 Kate Moss in her Box Logo Supreme Tee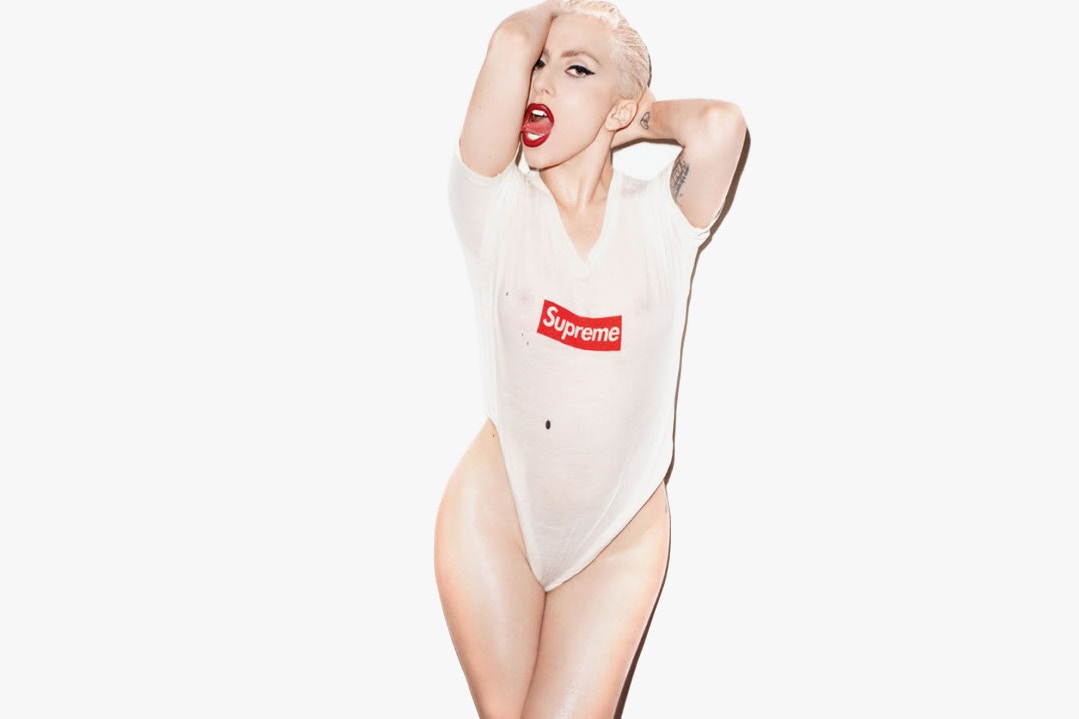 Lady Gaga sporting the Box Logo Supreme Tee
So how does one go about getting a celebrity to endorse a product?
One word. Authentically.
Supreme's celebrity endorsement actually started with their collaboration with music artists. In the 1990's Supreme began collaborating with different music artists to inspire their collections. Supreme authentically created relationships with music artists to gain momentum and establish collabs.
Here is the first ever artist collaboration Supreme did (with late graffiti artist Rammellzee when they opened their New York City store in 1994):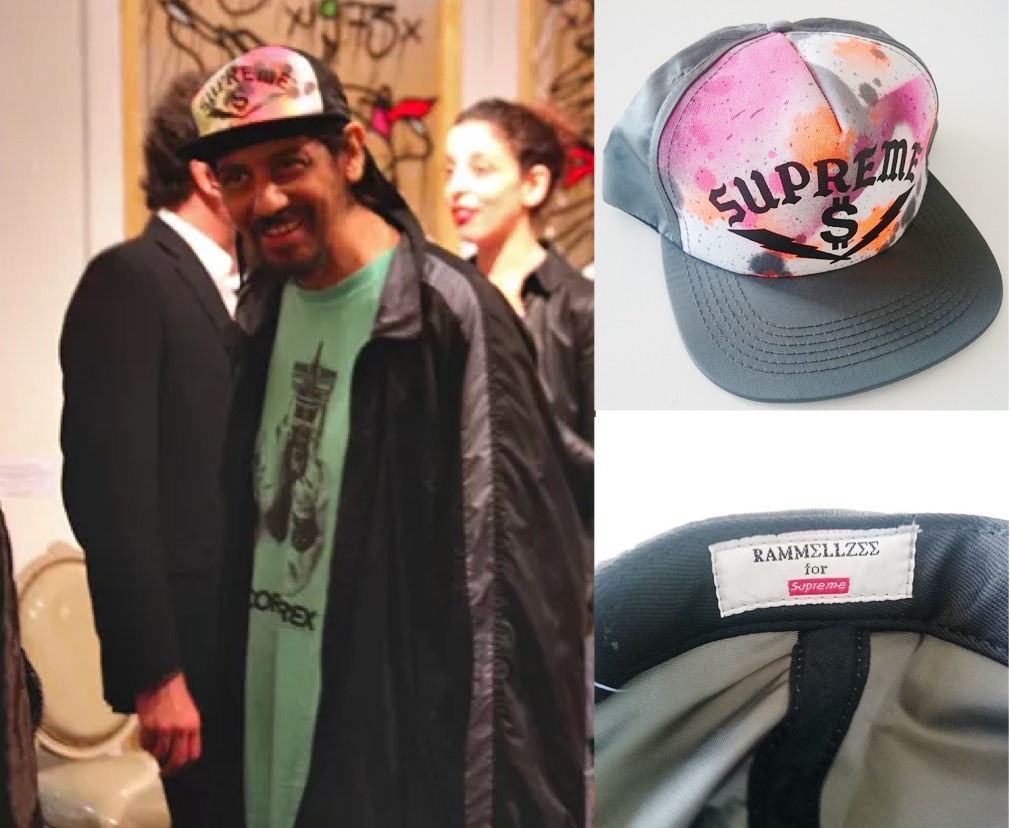 The hand-painted Supreme trucker caps with neon clouds Rammellzee helped create are amongst the rarest of Supreme products.
After the trucker cap collab with Rammellzee, Supreme created dozens of celebrity inspired t-shirts, hoodies and caps over the next three decades. When a music artist works closely with Supreme to create a piece of clothing inspired by them, there is a bond that is formed.
Celebrities who work with Supreme can feel the authenticity oozing out of everything released by Supreme, and are likely to wear the products themselves.
Supreme's key influencer marketing tactics for getting collabs with major celebrities and brands are:
Authentically create real relationships with brands/influencers that you want to collab with. You do this by helping them with things they are involved with (attending events where they are, connecting via social media, etc.)
Do things that allow your collabs to actively participate in the collab with you. Create a product together.
Outline the benefits of working with you (massive exposure, tapping into a new market, etc)
Ensure that the brands/collabs you are trying to reach out to are in line with your morals, values, and overall 'culture' you are creating with your brand
If you do these four things right, then leverage the success of your first collab to get your second and third, you can get celebrity influencers promoting your product for you.
The takeaway: Look at the influencers your target market admires then brainstorm ways to help them with what they're working on in order to authentically gain their trust and collaborate with them (Supreme does this through collaborating with top names like Lady Gaga, Kanye West, Drake and Kate Moss – all artists who their target market admire).
USE THIS INSTAGRAM GROWTH HACK TO GROW YOUR INSTAGRAM ACCOUNT TO 6 MILLION FOLLOWERS
Supreme's instagram posts average over 100,000 likes, and over 700 comments:

To maintain brand consistency, exclusivity, and mystery for each of their Instagram posts, Supreme uses simplicity and celebrity endorsements/collabs to gain followers.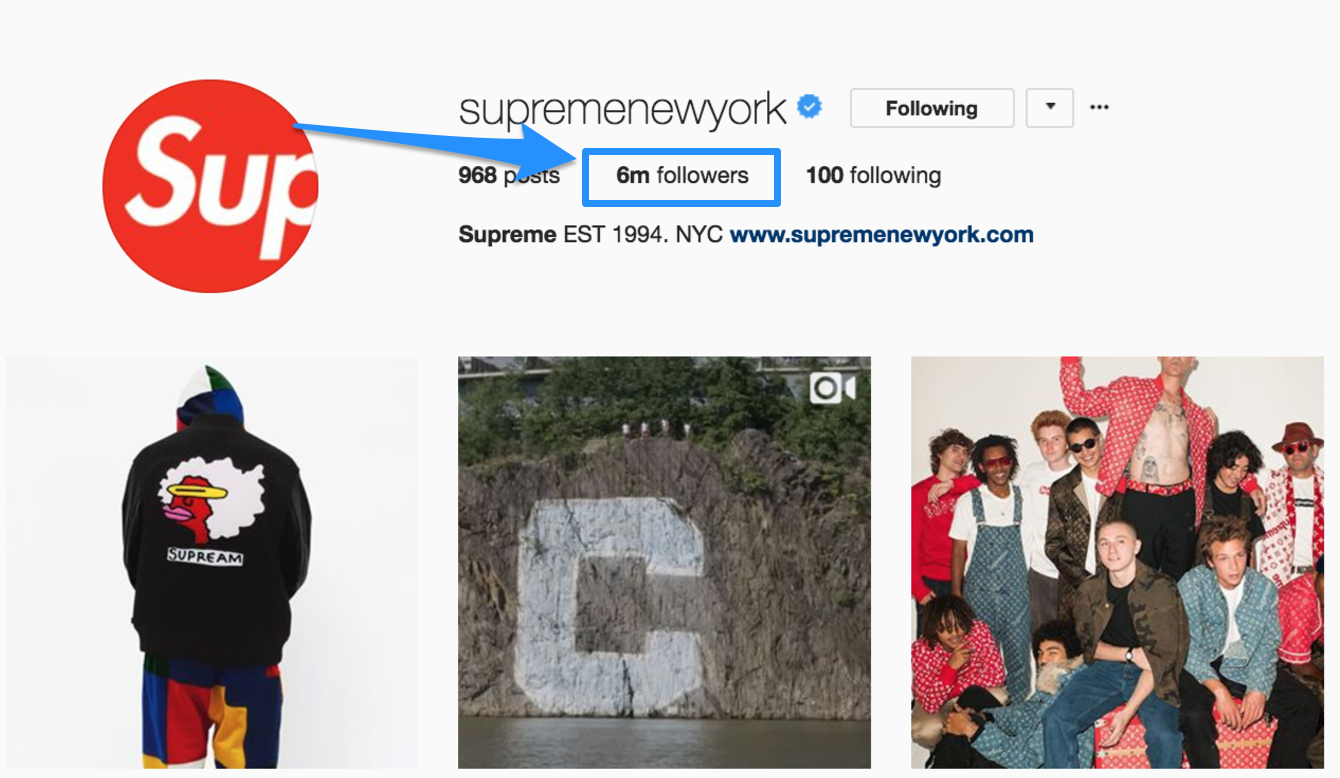 They posted their first Instagram post in March of 2013, and use the social media platform to post images from their lookbooks and highlight their collabs.
Their top hashtag is related to their collab with Louis Vuitton — #LVxSUPREME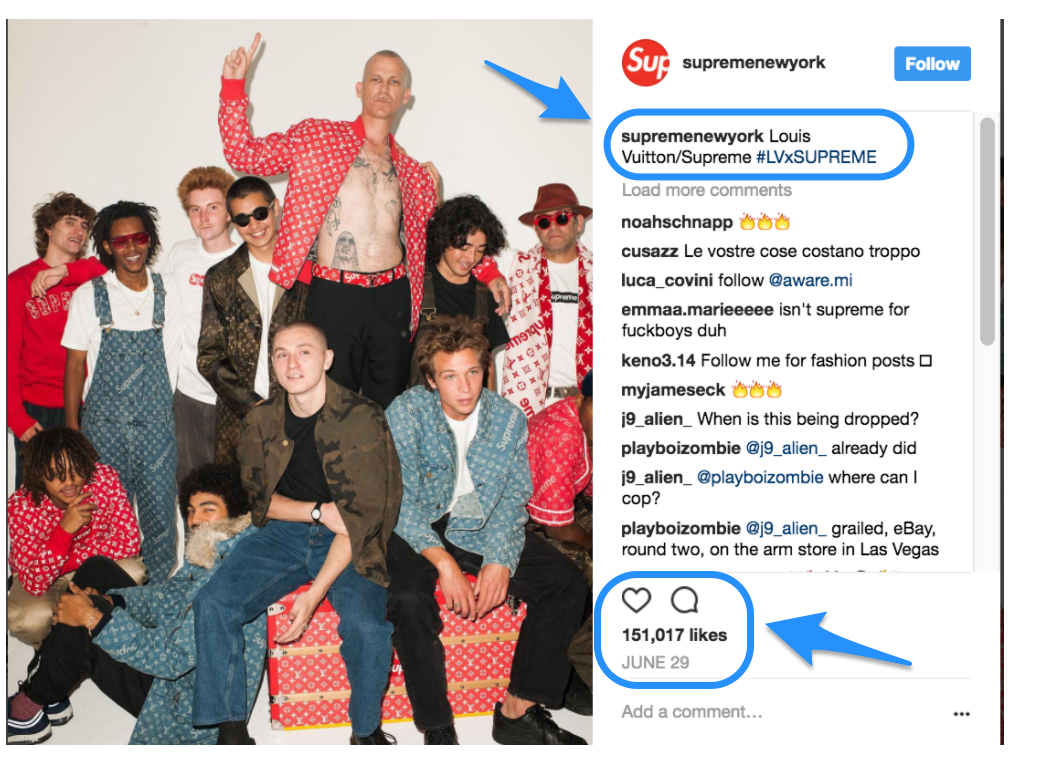 The brand has collaborated with brands and influencers such as Vans (pictured below), Nike, Fila, Levi, and dozens of well known brands.
Nike
Fila
Levi
Vans (pictured below)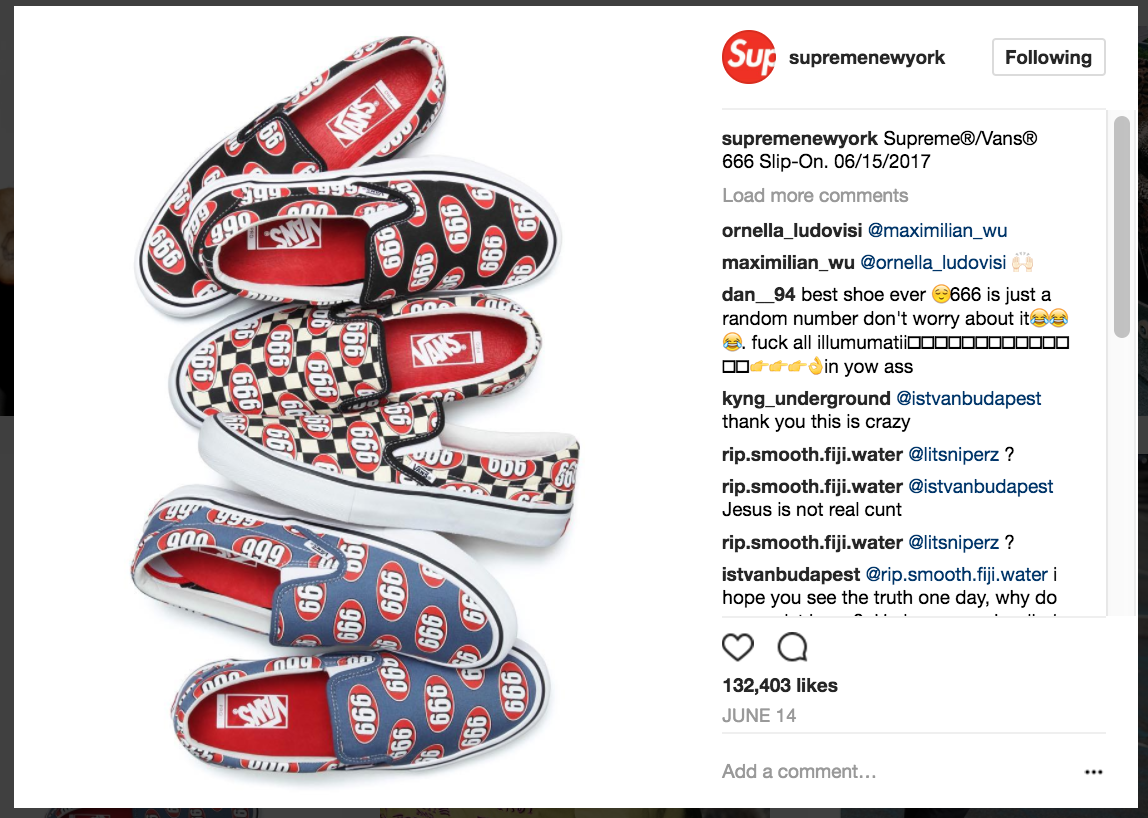 Supreme has nailed doing collabs with well-known brands and then promoting that collaboration on their Instagram. By focusing on growing one social media channel (ie: Instagram growth) Supreme are able to show collab partners they are able to promote the collab to their over six million Instagram followers, creating a flywheel for more collab opportunities and more Instagram account growth.
The takeaway: You can't win on every social media channel. Focus on growing one social media channel and finding the types of posts that work best for your business. I saw a marketing company called HubSpot doing the same thing, but instead focusing on Facebook growth by using Facebook video posts (Supreme does this by collaborating on products with major brands like Vans then using that as social proof to hack their Instagram follower growth).
THE POSTER ADVERTISING CAMPAIGN YOU CAN RUN TO BUILD INSANE HYPE
Instead of the standard PPC advertising campaigns most clothing brands do, Supreme instead chooses to do periodic celebrity poster campaigns to stay true to their brand exclusivity.
When a campaign runs, Supreme will glue posters of celebrities rocking the brand's signature box logo design on walls, scaffolding, and mailboxes around New York City and other cities where they have retail stores, like this one with Kate Moss: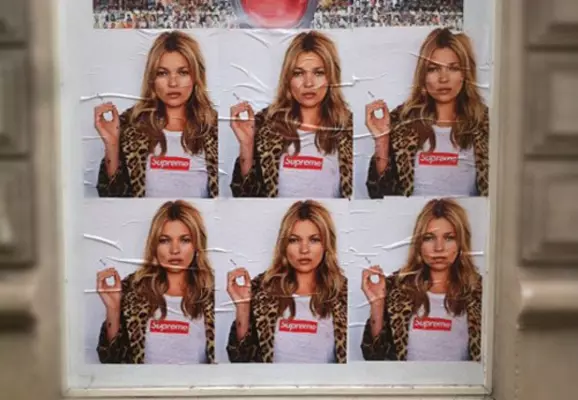 Supreme will then make a photo t-shirt (based on the poster) available for sale to Supreme fans in future months. These t-shirts are some of the most desired pieces in Supreme's collection.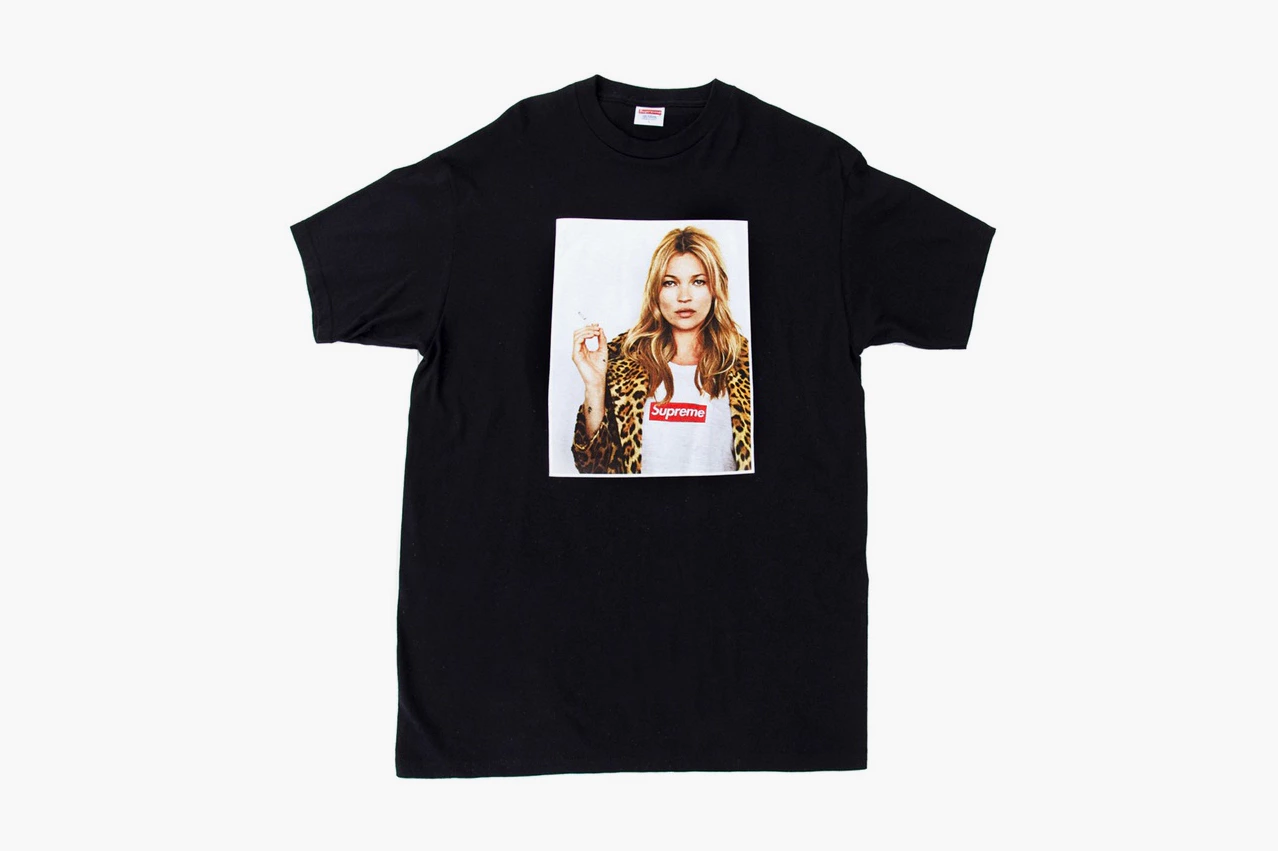 Here are some of the most famous poster ad campaigns Supreme have run over the years:
Raekwon & Elmo, 2005
Dipset's Jim Jones & Juelz Santana, 2006
Mike Tyson, 2007
Kermit the Frog, 2008
Lou Reed, 2009
Lady Gaga, 2011
Prodigy of Mobb Deep, 2011
Three 6 Mafia, 2012
Kate Moss, 2012
Neil Young, 2015
Other than the photo tee and poster campaigns, the closest Supreme comes to advertising is through their behind-the-scenes videos that you can find on the "random" link on their website. Here's what it looks like: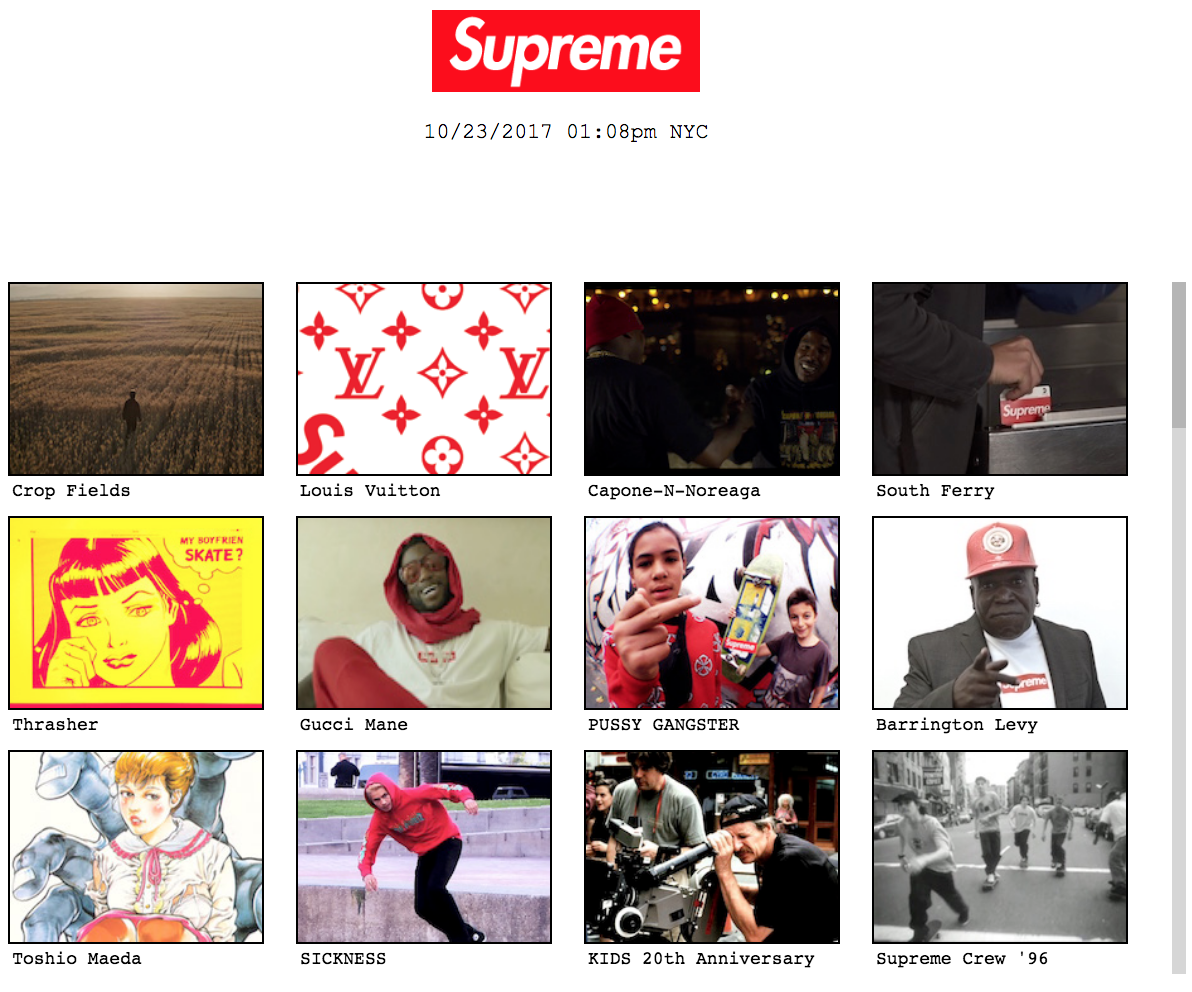 The takeaway: When you find an advertising campaign that works, keep doing it (Supreme stay true to their brand identity and have been doing photo tee and poster campaigns since 2005.)
TURN YOUR CUSTOMERS INTO MILLIONAIRES BY FOLLOWING THESE 2 ECOMMERCE MARKETING RULES 
Every Thursday entrepreneurs (and hypebeasts) line up at Supreme stores to get the latest drop. The online web store sells out so fast that two guys built an ecommerce bot called "The Supreme Saint" that people can buy the option to use for sixty minutes every Thursday at 9am on their website.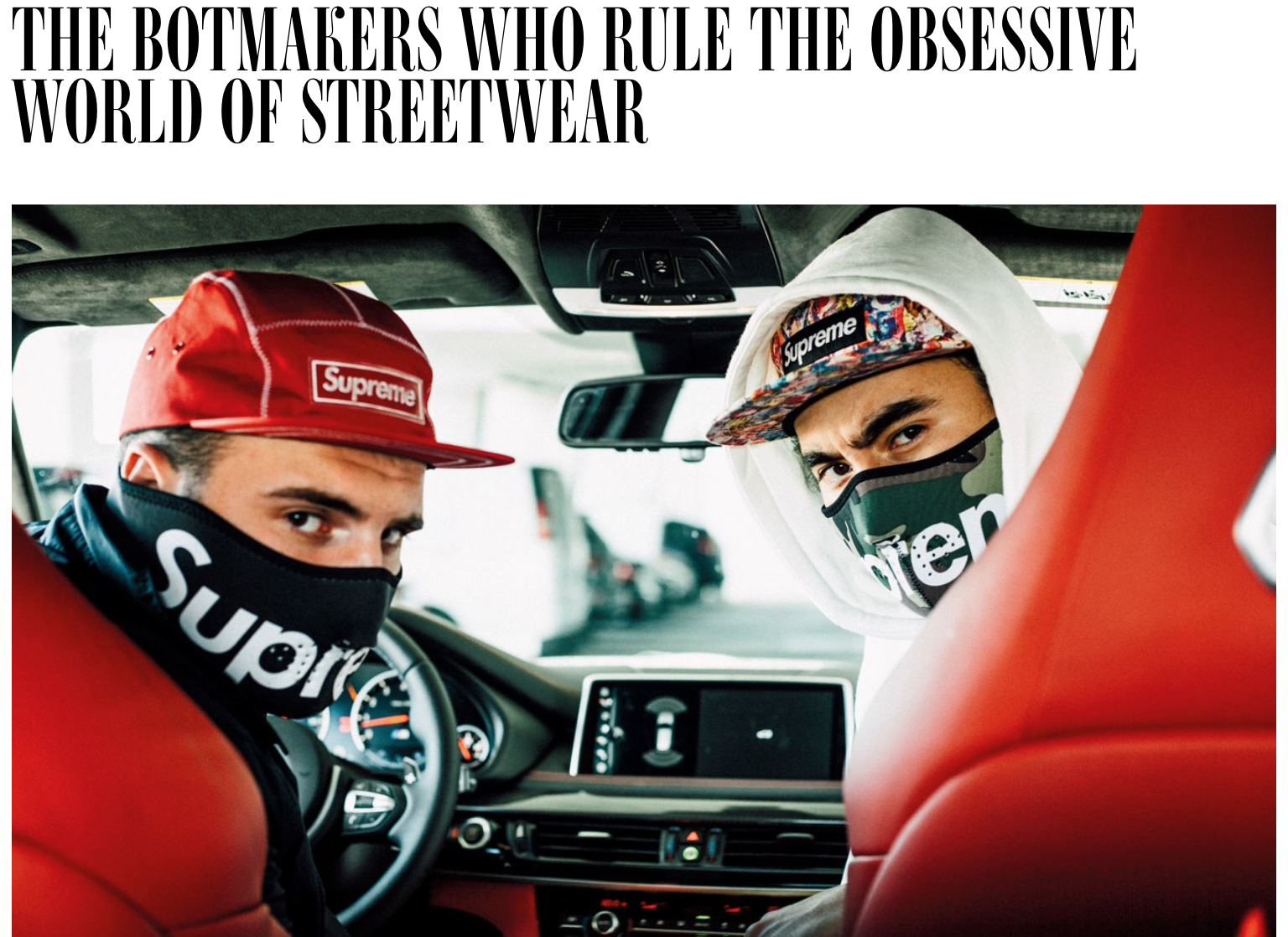 From 9am to 10am on Thursday you can pay anywhere from $10 to $100 to get these guys to buy Supreme for you. Then at 11am when the Supreme online store opens, their bot will connect to Supreme's servers with your shopping list and credit card number, and complete the checkout for you before other ordinary online shoppers can.
One time these guys made $20,000 in five seconds, by selling 200 pairs of Nike/Supreme Air Jordan 5 sneakers for $100 (that's not the price of the Air Jordan's, that's the price people paid to use The Supreme Saint bot to get a crack at spending another $200 on Air Jordan's.)[*]
Another bot maker called EasyCop Bot sells a Supreme app-based bot for $595 that people can use on their own. By mid-2016, more than 500 people had purchased it raking them in nearly $300,000: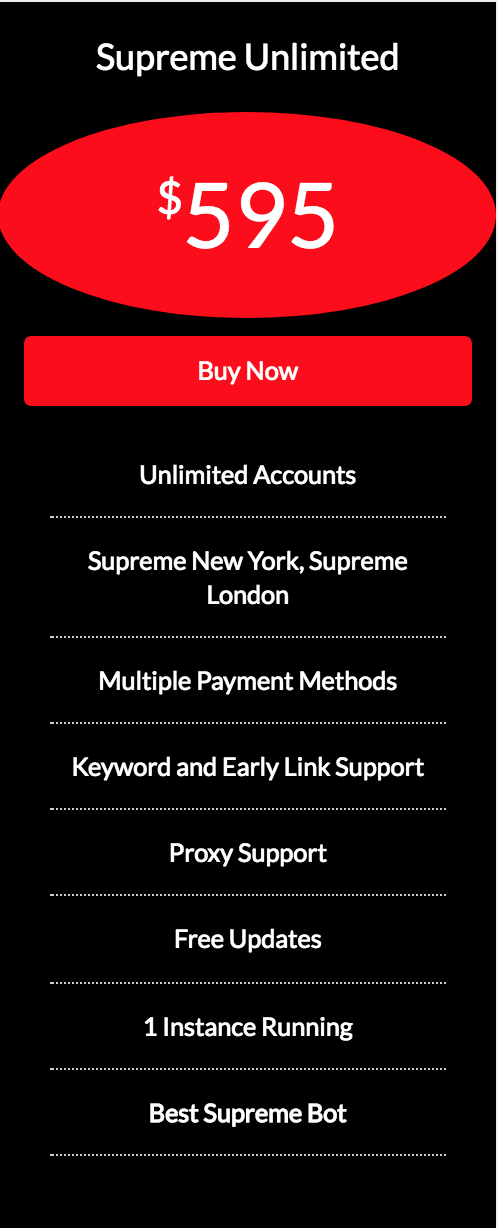 The reason add-to-cart bot services like this exist, and why so many resellers line up for Supreme is because founder James Jebbia follows two simple ecommerce marketing rules:
Scarcity: every product is sold in limited quantities
Consistency: new products go online only on Thursdays, and only at 11am
By following these two rules Supreme have created a culture where customers know when to come back and know that they will find something new every time. This strategy has been so successful that Supreme's website got almost one billion pageviews in 2016 when a box logo hoodie dropped (data I found in a deleted tweet from Supreme's web agency.)
Obviously a lot of that is from bot traffic, but the bots are actually helping Supreme sell out quicker and make more money. They work so well that items are selling out quicker every week (between 19 seconds and 173 seconds.)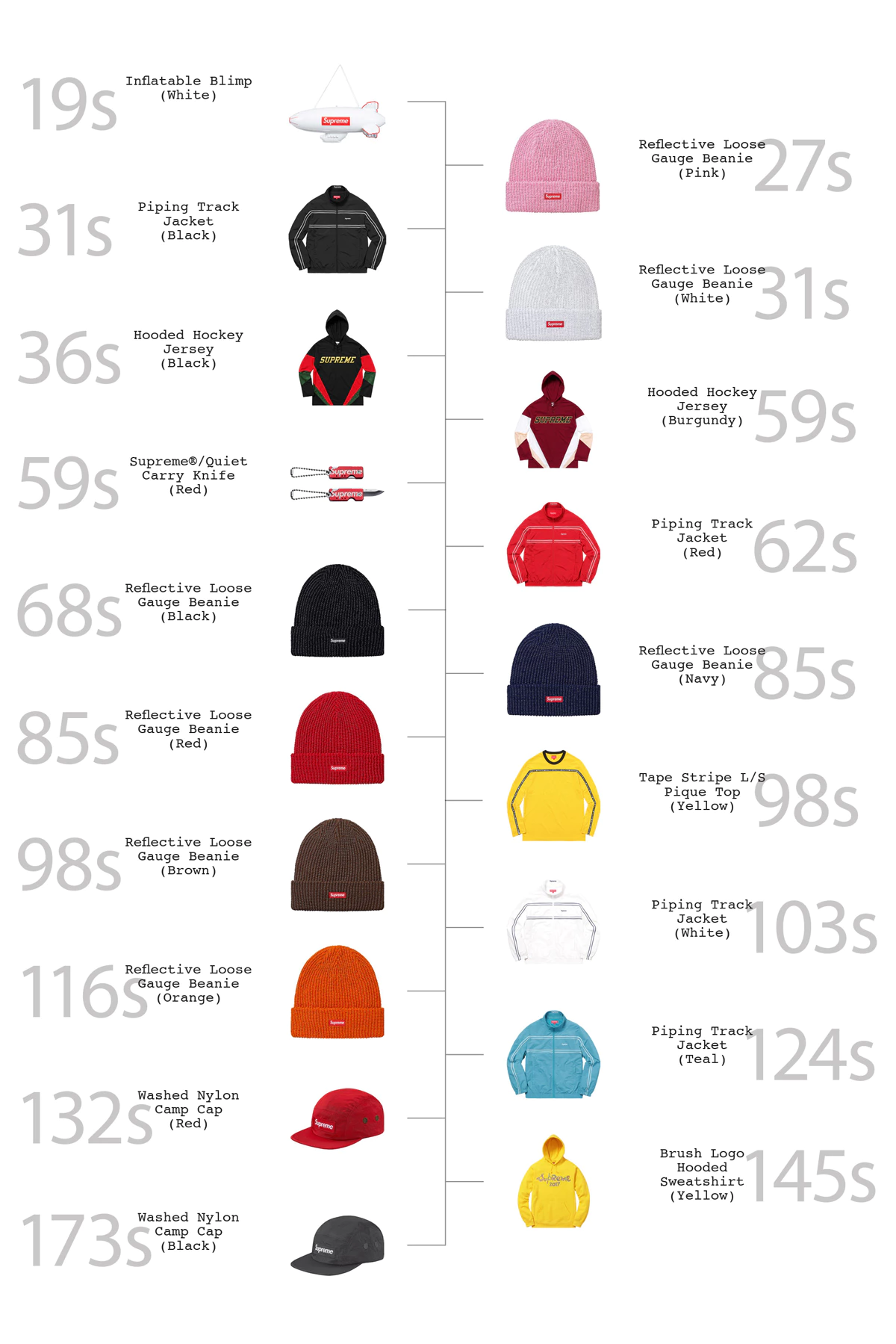 The resellers then flip and profit.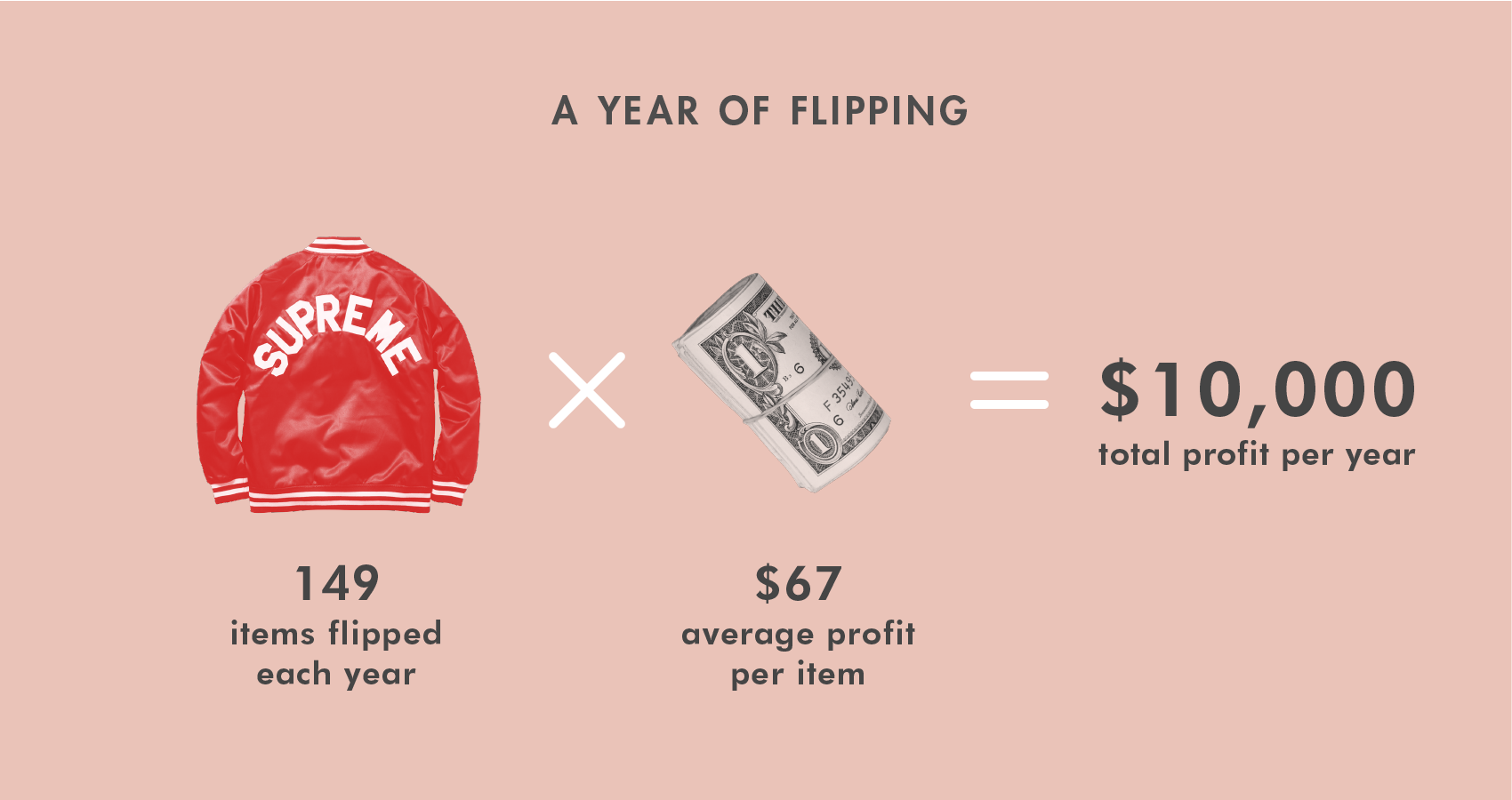 Supreme is trying to reduce bots so customers who want to wear the clothing can buy (and not just attract resellers), but their two rule strategy has worked so well that the resale market has become insanely lucrative.
Wealthsimple, an investment company in New York found that if you flip 149 Supreme items at an average profit of $67 per item, you would make $10,000 profit per year. If you then invest that $10,000 every year and the market goes up by an average of 5.5% per year, in 35 years you will be a millionaire.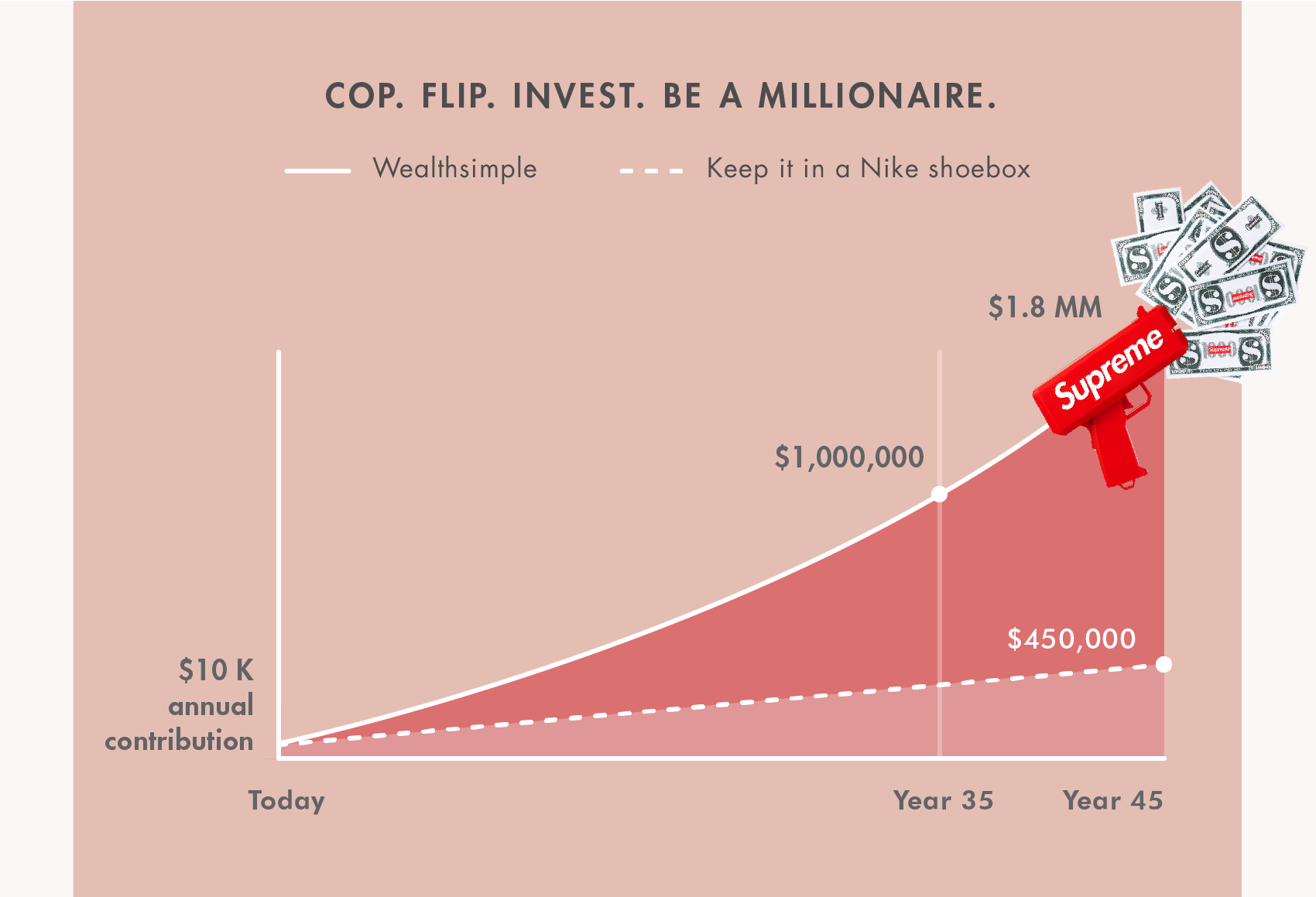 Most ecommerce companies can't replicate this sort of math for their customers because they're missing scarcity and consistency from their business model.
And just look at the math on this business model for Supreme (this Redditor said it best):

Supreme make this money in under 10 minutes every Thursday too, like damn 😉
The takeaway: If you want a predictable ecommerce business model where you sell out of stock every week and do massive sales volume in a short time period of time, limit your supply and drop your new product at the same time and day every week/month/year (Supreme does it by limiting supply and dropping new products every Thursday at 11am.)
9 TAKEAWAYS FROM SUPREME STREETWEAR'S INSANE SUCCESS
Supreme Streetwear has a marketing strategy so legendary, so mysterious, and so successful that entire documentaries have been created around it's 'marketing strategy'.
Supreme without a doubt displays the same characteristics of exclusive couture brands; however, their products are fairly simple.
Here are the nine key takeaways:
Intentionally limit the quantity of every product you sell. This is how you can build a demand frenzy around your brand and get people in internet groups and major news sites promoting your product for you.
Match your homepage design with your brand image. If you're trying to go high-end luxury, keep your website simple and stylish.
Rethink your email marketing strategy. Are your customers replying to your emails excited to get the next one, or do you send out so many they just ignore you? Just because 90% of retailers spam people with emails and push for sales does not mean it is the best tactic for your email list.
Release content your target customers want. Just because everyone is writing blog posts, it doesn't necessarily mean it's the right marketing tool for you. Supreme use "lookbooks" that get the attention of their fans and the media. Think outside the box for what content your buyers want to engage with, and how often.
Find moderators inside subreddits of Reddit to promote posts for you. This is the only guaranteed way of getting links to your business promoted in Reddit without being self-promotional.
Get collabs with celebrities. You do this by helping them researching them and helping them hit the goal they are working on right now, building your product with them and showing them how you will promote them to your audience.
Focus on growing one social media channel. You can't win on every social channel, but you can double down on one like Supreme did with Instagram by finding what type of posts your audience most like to engage with.
Double down on advertising campaigns that work. Supreme have being doing photo tee and poster ads for over a decade. They haven't jumped around between different marketing channels, they just do what's worked in the past. Look at what's worked best for your business in the past and double down on it today.
Use these two ecommerce marketing rules together: Scarcity and Consistency. By limiting the quantity of product you sell and releasing product at a consistent time and day every week/month/year you can sell out of product consistently.
Credit: Sumo.com
Find out more